Above-Bed Decor Ideas to Elevate Your Bedroom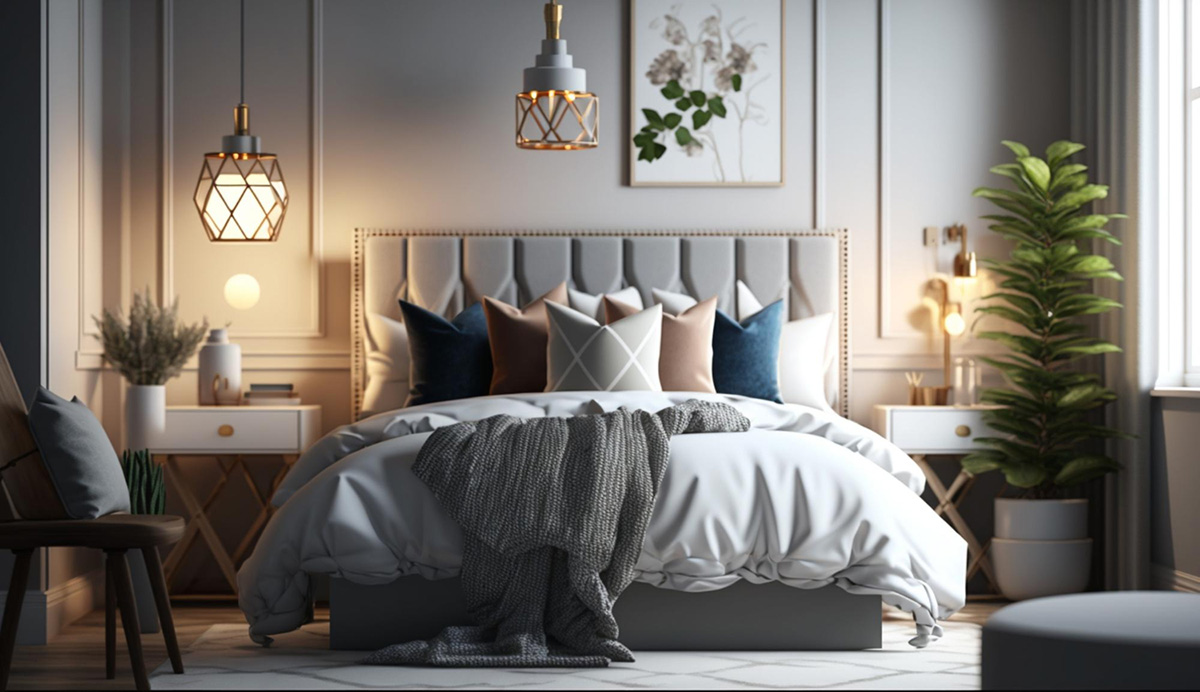 Your bedroom is your sanctuary, the place where you recharge after a long day, and where you can be yourself. It's essential that your bedroom décor reflects your personal style and helps you create a relaxing atmosphere. And one of the most important parts of your bedroom décor is the space above the bed. Decorating this area can be challenging, but it doesn't have to be. In this post, we'll show you how to elevate your bedroom to the next level with above-bed décor ideas that are easy to implement.
1. Artwork Displays
One of the easiest and most popular décor ideas for above the bed is to display artwork. This can be anything from a single statement piece to a gallery wall. If you're going for a minimalist look, opt for a single large piece that complements your bedding and wall color. For a more eclectic feel, mix and match different size frames, and select pieces that share a common theme or color palette. Whatever your style, artwork is a surefire way to take your above-bed décor to the next level.
2. Mirrors
Mirrors are not only a practical addition to your bedroom; they can also help create the illusion of more space. They reflect light and make your room look brighter and more open. Choose a large statement mirror to hang above your bed, or create a unique arrangement of smaller mirrors that complement each other. Don't be afraid to mix and match styles and shapes to create a unique and stylish look.
3. Shelves
Shelves are a great way to add a little extra storage in your bedroom while also creating a chic and stylish look. Floating shelves or minimalist wall-mounted shelves above your bed are perfect for displaying your favorite items, such as books, picture frames, and plants. Just make sure to create a balanced and symmetrical look to create an eyecatching display.
4. Canopies
Adding a canopy above your bed creates an instant dreamy and romantic feel. It creates a cozy atmosphere that's perfect for snuggling on lazy Sunday mornings. You can choose a simple sheer curtain for a minimalist look or go for a full-on draped canopy. A canopy can be a great way to add texture, color, and depth to your bedroom décor.
5. Wall Art
If you're looking for something unique and different, consider a striking wall art piece above your bed. It could be anything from a woven tapestry to a macrame wall hanging or even a stunning metal sculpture. Choose something that speaks to your style and adds the desired mood to your space.
Conclusion
Your bedroom is your personal haven, and the world should reflect your style. Take the above-bed decor seriously to uplift your bedroom aesthetics. Use these above-bed decor ideas to add some personality and style to your space. Remember to select decor choices that speak to you as an individual so that you can showcase your unique style. If you are looking for an apartment in Fort Myers, FL, The Robert Apartments is the right fit for you. Book your personal tour today to experience the beautiful ambiance it offers.